The risk of fintech blanding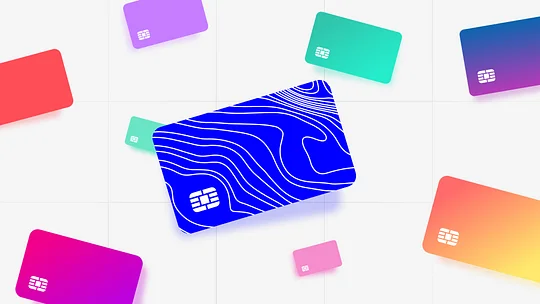 In a landscape where it's so easy for people to switch between digital products and services, brands are having to work harder to get into the customer's mind, and more importantly - to stay there.
Standing out from the crowd is as important as ever. So why do fintechs look increasingly similar?

Let's talk about sportswear
Growing up with my friends meant wearing either Adidas or Nike gear when playing football, and the choice was almost certainly informed by which boots your footballer of the moment would wear on matchday.
You chose to align yourself to a certain brand and hoped you could afford the newest trainers. We all wanted to be our favourite footballers, and brands knew how to take advantage of this.
Aligning yourself to a 'tribe' of brand advocates is no new thing in many sectors. For every favourite sports brand, there is the preferred airline to fly with or a supermarket from which you buy the same bread that's available at its competitors.
With banking, it's a little different.
Sure, if you're a high net-worth individual you may not necessarily be popping down to the local building society. But historically speaking, those that we've trusted with our money have been chosen because of their products and offerings, or maybe simply because our parents banked there and we chose to follow in their footsteps out of simplicity.
But this is all changing.
As the digital landscape has grown exponentially, there is now an abundance of fintech startups all vying for the attention of potential customers. With this comes a baseline expectation of strong service offerings delivered through great end-to-end user experiences, something that legacy financial institutions are still playing catch up on.
Start-ups have been quick to capitalise on this. They connect with customers by empathising with their frustrations and showing how easily they can be relieved just by downloading an app. And herein lies the risk of blanding.
So, what is 'blanding'?
All start-ups are, by nature, disrupting a particular sector. To do this they need customers likely tempting them away from larger, established competitors.
How businesses brand themselves is vital to their early success. To win customers, these brands tend to centre their messaging around how they're unique and are bringing something new to the market that solves recognised problems.
This is all well and good, but what happens when another startup with a similar offering centres itself around the same ideas and taps into the same customer values? Then a couple more do the same. This is where blanding occurs: when a pattern manifests itself in brands looking to stand out from one group but end up blending with another. A bit like our awkward teenage years.

Brands that 'bland' tend to follow an identikit.
In tech, this often means a sans serif wordmark used alongside a vibrant colour palette, like Spotify's use of duotone effect with imagery, and some 'quirky' illustrations like those used by Venmo. All are part of design trends that have been inspired by tech giants such as Google, Apple, and Airbnb.
There's nothing necessarily wrong with that. The quality of design seen in digital products and services because of these giants is amazing. But when it comes to branding, there is one key difference: startups do not have the 'brand equity' to stray from the norm. The tech giants can position and present themselves how they do as they have earned that right through years of strong product offerings. Apple didn't always have the sophistication it does now and Airbnb looked very different before it rebranded and introduced the Belo.
But what about fintech?
For fintech startups, brand equity is even more important, as people are trusting you with their money. The success of brands like Monzo and Starling Bank has created a tried and tested formula that balances being seen as secure and trustworthy, whilst having a refreshing take on what a fintech brand could be. Frequently leading to an execution of simple and friendly design with an approachable but straightforward tone-of-voice.
This is why people are now used to seeing messaging that puts a spin on "our app makes banking easy" or "open an account and get spending in minutes". These propositions promise to easily resolve frustrations that customers have with their current providers, enticing them to join a new service with an easy-to-use app and a brightly coloured physical card to go with it.
But the main purpose of branding is building differentiation from your competition, and in fintech, there's always growing competition.
Let's say two startups are launching with very similar early product offerings, a lightweight digital wallet with a prepaid card for example. Are these startups doing themselves a disservice by presenting themselves in a similar way to their competitor?
With potentially similar early offerings to your competitors, the opportunity to differentiate lies in how you define your brand. Doubling down on this will give your business a greater chance of success in the future.

The purpose of branding is building differentiation from your competition, and in fintech, there's always growing competition.
Up, based in Australia, have a brand that reflects their rebellious spirit of building a product that they themselves would use, and in the way that they want.
Robinhood's recent rebrand inspires people about what their financial future could look like with forward looking copywriting and science fiction inspired illustrations.
The brand experience of Majority, a financial membership aimed at migrants, is inspired by flag designs that creates a design system that's diverse like its customer base.
Customers have been increasingly savvy when it comes to recognising what brands stand for, aligning themselves with the brand they feel represent their beliefs. This means brands need to think harder about why they exist. Having a brand purpose that guides your visual identity, tone of voice and product strategy, helps to create a more meaningful connection with your customers.
Doing this will make your brand appear more authentic to customers, increase your chances of success, and hopefully become a little less 'bland' in the process.

If you're a digital brand looking to connect with a modern audience, check out our Minimum Lovable Brand (MLB) handbook. It's a modern, iterative approach to brand that's fit for start ups, designed to help you cut through the noise and punch above your weight.