The Covid Credit collaboration: how fintech is supporting the UK's self-employed

So a strange and wonderful thing happened over the weekend. This is the story of how Covid Credit came into existence.
Last Friday, March 20, the UK Chancellor of the Exchequer, Rishi Sunak, announced measures which included paying full-time employed workers grants equating to 80 percent of their average income over the past three years or £2,500, whichever is lower.
On Saturday morning I tweeted an idea and threw it out to the community for discussion.
What I – and clearly many others it turned out – wondered is that the plans miss a huge portion of the UK's workforce: the approximately five million individuals who are self-employed and unable to register themselves as 'furloughed workers'. No registration means no qualification for relief.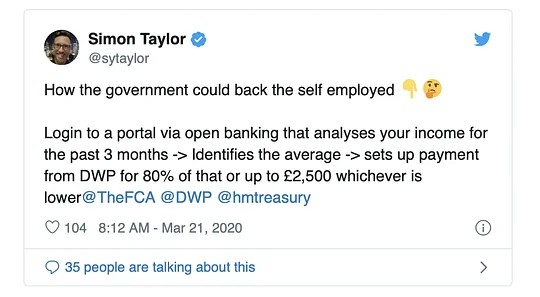 That seemed like a huge missing piece of the puzzle.
So I'm sitting there contemplating what to watch on Netflix and my phone vibrated with alerts. Again. And again. And again. I mean, nothing too unusual about that, it happens to us all. But it seemed like a lot.
But what happened next is extraordinary.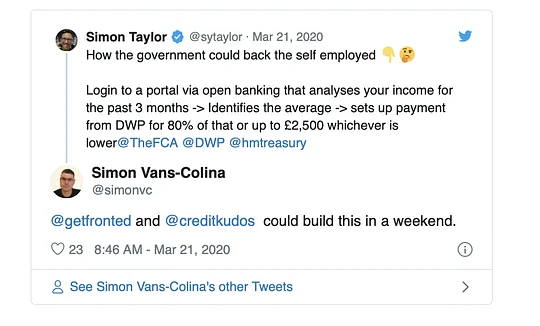 The team at Fronted – Anthony Mann, Jamie Campbell and Simon Vans-Colina – chimed in with ideas about how it could work and proposed a potential customer journey.
Then things went slightly crazy. It snowballed.
From one tweet, we were on a video conference where we had engineers from Credit Kudos and designers and front end developers from the team at Fronted all collaborating to figure out how we could make this thing happen.
Together a team – now over 35 individuals across multiple firms – worked over the weekend to pull together a working prototype of a digital service for the self-employed to show a loss of earnings and, critically, qualify for financial support.
By the end of Saturday, the open banking journey was structured, the self-certification process was generated, data capture and verification were implemented. We even had a website for Covid Credit.
We built the prototype to ensure we could provide data that demonstrates a loss of income as a result of the coronavirus. I mean, it sounds so obvious and yet had been missed in that initial government announcement. But saying it doesn't go very far; we needed to prove it and get backing for it.
So that was Saturday.
Sunday came around and we needed to do more
The team completed the onboarding flow and the data delivery mechanism before linking the open banking journey.

From a tweet to a functioning service in 48 hours, all thanks to the curiosity and generosity of the fintech community
Soon we needed legal help, particularly when it came to drafting the self-assessment statutory declaration. We could do fintech, we could do design and development, but the legal stuff needed those experts.
Again we asked the community, and guess what? Yep, they answered the call.
In the meantime, plenty of others raised their hands and asked how they can help, in any capacity. For example, Edgar from the 11:FS Pulse team chipped in to create a video explaining the service.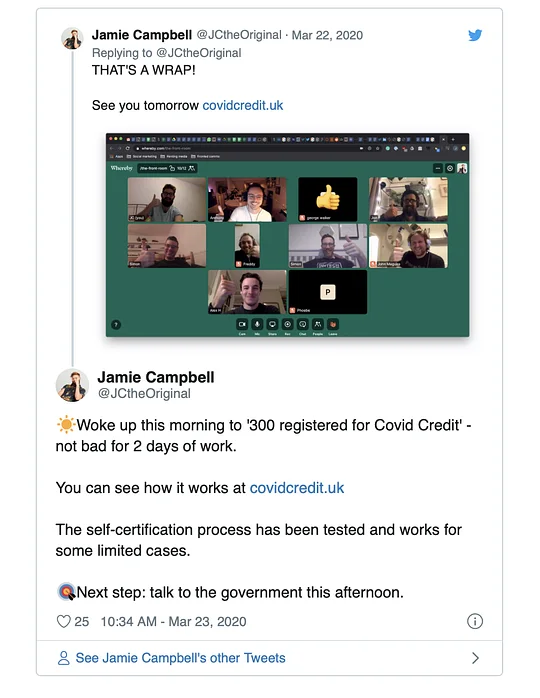 Within a day, 630 people had signed up and various government agencies had reached out to understand the product.
From a tweet to a functioning service in 48 hours, all thanks to the curiosity and generosity of the fintech community, working away in self-isolation to build Covid Credit: a new service available to the entire UK self-employed community in need of financial support after loss of income as a result of the coronavirus.
This fintech community is truly something to marvel at.
Go check out Covid Credit.
How we can help
Digital is no longer a nice to have. Becoming truly digital means shifting not just what you do but how you do it across your value chain and operating model. We live and breathe the start-up approach. We have a remote-first approach and can deliver in any circumstances.