Starting your morning with The Breakfast Show

From an idea to a live show in a few days. We're looking to bring the financial services, fintech and wider community together while we're all so far apart.
I don't know about you but these last few weeks have been the strangest I can recall.
As we settle into our new routines, the human connections have been challenging for many. Those quick, accidental catch ups making tea are now Hangouts or Zoom conversations – where calendars allow for them to happen.
Face to face interactions are vital and never more so than right now as we deal with the reality of remote working for the foreseeable future. Not simply because it makes communication better but because right now a face on a laptop screen helps us stay connected on a basic, human level.
That led us to thinking about our content. If our podcasts have proven so popular because many folks consume them on their commute, what do you do when there is no commute?!
When it isn't 'business as usual' and you don't have access to our studio, cameras and kit, how could we deliver great content in a format people could easily consume and required less production.
That led to an idea.
Our upcoming guest list is a who's who of financial services, fintech and everything in between
That idea led to a conversation with our Exec Producer, Tobias: what about a new type and style of show? We agreed on an approach and set about how to make it happen in the usual 11:FS style.
It had to be live video, so that meant we'd stream it through LinkedIn Live on my profile.
It also had to be about and centred around the financial services and fintech community and the types of discussions they wanted to hear.
Welcome to The Breakfast Show!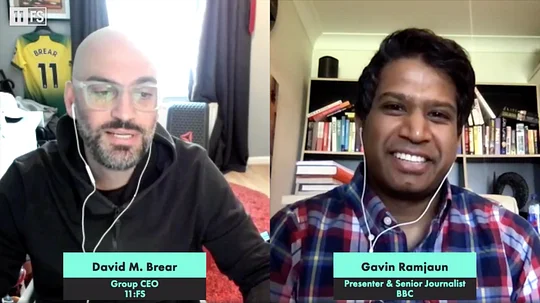 At 8:30am GMT over your morning coffee or bowl of cereal you can now see us chat about the latest news, how our guests are coping with that WFH life, hints and tips on remote working and a whole lot more.

That's included how COVID-19 impacted Revolut's US launch plans, how prepared firms have been to transition to remote working and what they need to do now, and the impact on the sport schedule with the BBC's Gavin Ramjaun. We talked business financing with Val Kristensen from OakNorth and banks going digital with Chris Skinner who walked us through his latest book Doing Digital. We've even managed to catch up with friend of 11:FS Dexter Cousins in Australia to check in on the situation on the other side of the world.
We're barely two weeks in and already things have got a bit crazy.
Our upcoming guest list is a who's who of financial services, fintech and everything in between: Anne Boden, CEO of Starling Bank; Eric Wilson, CEO of Australian challenger Xinja; Deniz Guven, CEO of Hong Kong virtual bank Mox. Then there's the likes of Norris Koppel, CEO of Monese and Freddy Kelly, the CEO of Credit Kudos.
That's before we get to guests from Salesforce and BlackRock, or fascinating individuals such as Damian Hughes, the author of Liquid Thinking, where we'll dig into what business can learn from sports.

The feedback has been amazing, the comments when we're on air too. I don't mean "loving this conversation", although we're getting them and super appreciate it... more all the folks simply saying "morning!" or "how are we all doing today?".
In these strange times, seeing the community connecting and pulling together has been such a positive. Those short messages, the likes, the shares might seem like insignificant acts at times like these.
But we shouldn't dismiss the positive impact that the community, working together pulling together, sharing important information and silly anecdotes can have on us all. While I'm sitting recording the show from my study room, I'm having an absolute blast.
And seeing how it's gone down so far, we're also setting up a US version of the show hosted by our very own Uncle Sam, Sam Maule.
If you haven't checked it out, come hang out with us in the morning and get chatting in the comments. Simply follow me on LinkedIn and you'll be notified when we go live.
It's a great way to ease into the remote working day.