Our mental health is in the gutter. It's time to blame financial services.

The UK is in the grip of a mental health crisis. Twin pillars of Covid and a cost-of-living crisis have pushed our collective anxiety to dizzying levels.

This is taken from our Unfiltered newsletter. Subscribe now for a no BS, uncensored analysis of fintech news and hot topics delivered to your inbox each fortnight.

If you squint hard enough, you can just make out the original purveyors of Buy Now Pay Later (BNPL), once fat on our pandemic-panicked purchases, receding into the distance. Consumer confidence is in the toilet. For many, it's heat or eat.
It's a well-known truism that money is a source of stress. But there's a flipside to this particular coin. According to Money and Mental Health Policy Institute: "People with mental health problems are three and a half times more likely to be in problem debt" in the UK.
Who bears the responsibility for this dire, dire situation? It's not enough to blame the Kremlin. Or No. 10 Downing Street. In this critical regard, financial services is not fit for purpose. After all, isn't the very point of our industry to onboard people into the complex and frightening world of finance?

In this critical regard, financial services is not fit for purpose.
Like all great tragedies, this tale of woe is made up of three acts. Let's start with the first - incumbent banks and the many skeletons in their closets.
Enter stage left, the big players
Santander can lay claim to the Working Families Best Practice Awards' Mental Health & Wellbeing Award 2021. And I quote: "An employee survey found [an] 11% decrease in absences linked to mental health [which]...points towards an increasingly effective wellbeing strategy." Great stuff. But what of the customers of these and other giants?
From personal experience - let's call them brick-and-mortar bank X - has been anything but good for my mental wellbeing. In the semi-digitised nether regions of modern finance, brand touchpoints are increasingly fewer and further between. In true Orwellian (or, perhaps, Verhoevenian) fashion, we're in the world of the chatbot. Here's how that's working out.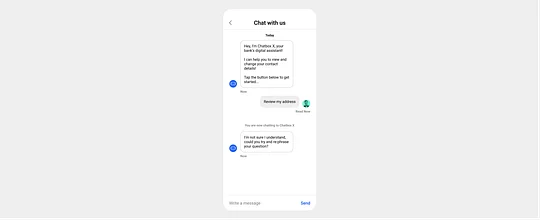 As a lot of millennials and Gen Zers will attest, logging onto your banking app can be a highly discomforting experience. Watching your salary dry up like a raisin in the sun. Logging on the day after a night at your local with a banging headache and a sense of regret. Waiting desperately for Student Finance to come through with the goods.

As a lot of millennials and Gen Zers will attest, logging onto your banking app can be a highly discomforting experience.
Why, then, is my mobile app dumbfounded by a request as simple as the one above? Why does updating such basic personal information involve jumping through so many hoops? Why am I placed under stress because your chatbot is an absolute shitshow? And that's not all. Which?'s list of the Best and Worst Banks (updated in March 2022) fetches near-unanimously measly scores for 'Service in branch.' Another crucial brand touchpoint. And let's call it what it is - another failure. Who bears the brunt of this failure most acutely? The anxious, the stressed, the depressed.
Exit, pursued by a fintech
When it comes to the neobanks, the picture is a bit brighter - kudos to Monzo, Starling and Revolut. The latter boasts the best Which? Customer score. Monzo recently gave their staff an additional three days off in the run up to the UK Jubilee bank holiday. The Revolut blog talks about the importance of 'wellness protection' with warts-and-all levels of detail.
But there's the rub. How much of this focus on mental health is just a hamfisted smash-and-grab? A crude attempt to mine a lucrative customer base with meaningless platitudes? After all, 'wellness' is the flavour of the month. But does anyone actually know what it is? Taken from the Money and Mental Health Time to Act report: "Essential service providers are often uncertain what sort of adjustments to offer for people with mental health problems and do not see Equality Act enforcement as a credible threat." In other words, they don't know what they're doing and they don't really care, because they'll keep getting away with it. Maybe I'm being too cynical. But something about it just won't wash.

After all, 'wellness' is the flavour of the month. But does anyone actually know what it is?
Thunder and lightning. Enter glimmers of hope
Yes, the situation is bleak. But don't despair just yet.
There are clusters of fintechs out there treating mental health with the care and attention it deserves. In particular, the money management and savings tools deserve a moment in the spotlight.
Chief among these is Cleo. With a beady eye (or two, judging from the emoji-influenced cursor that garlands their website) trained on Gen Z, the fintech is on a mission to "help millions of people improve their financial health. And relate to them in a way their banks never could."
Centre of the piece is AI assistant Cleo, who provides users with wisdom, tips and home truths. And you know what? It's authentic. It's genuinely funny. It isn't remotely cringey and it doesn't dissolve on contact with air. Unlike a certain chatbot I've had the displeasure of meeting.
My unfiltered opinion
Mental health in the UK is at its lowest ebb. Every week, one in six people report experiencing a problem of some kind. And, with the cost-of-living crisis barely in its infancy, the situation is only going to get worse.
Financial services is not doing enough.
With a lot of companies teetering on the precipice, it's high-time our industry embraced truly digital from top to bottom - to start repairing some of the damage it has inflicted upon its customers.
Until then, these hands will ne'er be clean.