Money 20/20: Victorious Bears, Stripe and killing innovation

This year's Money 20/20 raised the bar once again for bringing together the community to discuss what comes next in financial services.
I've been feeling hungover for days. But I haven't been drinking.
I can only assume it's the 'hangover' of three amazing, adrenaline-fuelled days in Amsterdam for Money 20/20, where I met some brilliant people and had a lot of great conversations. I also won a debate (more on that to come) and challenged delegates to think about what innovation means. To them, to the industry and to their customers.
They say a picture paints a thousand words. The week's emoji selection tells its own story.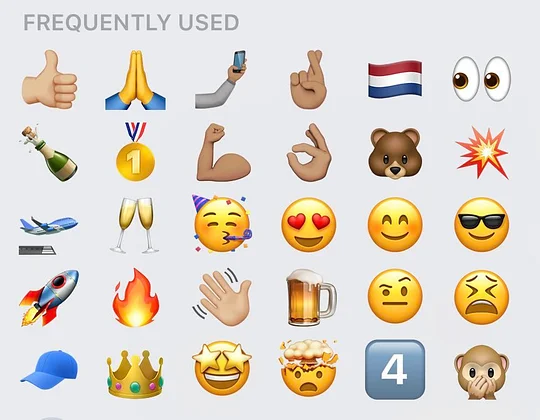 We were everywhere. On stage leading discussions and hosting fireside chats, reconnecting with old friends and meeting some new ones. There were the parties, the standout being the Monday 'Taste of Amsterdam' event where the food, drinks and conversation all flowed.
Our new CMO, Eric, got quite the introduction because it felt like we'd taken the place over, with keynotes, fireside chats with some of the brightest and best, and delivering content in a way only we know how.
From our recording space and some killer swag (you know us, we have to…), the Media team absolutely smashed it, again, fuelled apparently by Kinder Bueno ice cream. I can't wait for you to hear all the content we have coming over the next month or so.
Content, content and more content
Honestly, I lost count of how many interviews we did because the space was a constant buzz of bank CEOs like Ralph Hamers from ING and some of the most interesting fintechs on the planet, such as Roland Palmer, the Head of EMEA at Alipay.
Somehow, we also managed to squeeze in two OnAir shows, one a brilliant conversation with Onfido CEO, Husayn Kassai and Simon Vans Colina from Monzo. The second a wrap-up show reviewing the event with our good friend, OakNorth's Valentina Kristensen.
Not to be outdone, Simon recorded a Blockchain Insider Live discussing centralised vs decentralised (or should it be 'distributed'?), the future of programmable money, tokens and more. He then jumped back to the space to record Fintech Insider interviews and still had time to have a fireside chat with the fascinating Wei Zhou, the Chief Financial Officer at Binance.
A personal highlight was sitting down with co-founder and CEO of Stripe, Patrick Collison. We've been trying to get him on the show for a while and the conversation we had on stage has made me even more determined to make it happen. The interview is coming out soon but here's a teaser where he just completely avoided answering my question on whether Stripe is a fintech or more of a tech-fin.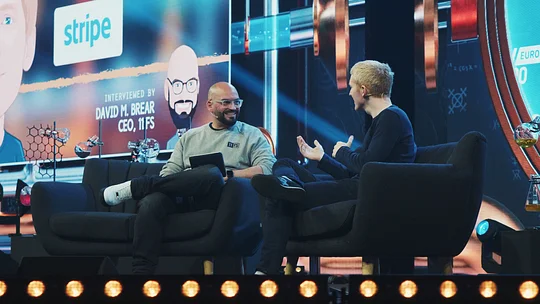 RIP Innovation
On the Monday, I challenged the audience with my keynote 'RIP Innovation'. Provocative? You bet. How many conferences have you been to where everyone has polite conversations about innovation and you walk away remembering nothing?
Well, I wanted to ensure the 'fear' they have is not which fintech or challenger might eat their lunch. That it's not about beanbags and foosball tables and innovation theatre. The real killer is apathy and a lack of respect for the challenge ahead. It's where the danger lies and that's what banks have been getting wrong for too long.
As financial services transform into a more open and collaborative landscape, attitudes and cultures must shift. That was a topic that through multiple sessions we were involved in…
CEO Breakfast and one hell of debate

The CEO fireside chat, where the only man was the moderator (sorry Drew!) was refreshing. The real test will be when we don't even discuss that as being different or new.
The chat itself was revealing, as our very own Leda Glyptis, Anne Boden from Starling and Claire Calmejane, group chief innovation officer at Société Générale talked bank / fintech relationships, commercials and how to build great services. They also touched on replacing core banking as the "hardest thing to do". Good job someone is trying to fix that...
To see Leda up there repping 11:FS Foundry was a moment I'll point back to as a 'yeah, we did good'. I don't need to tell you how exceptional she was.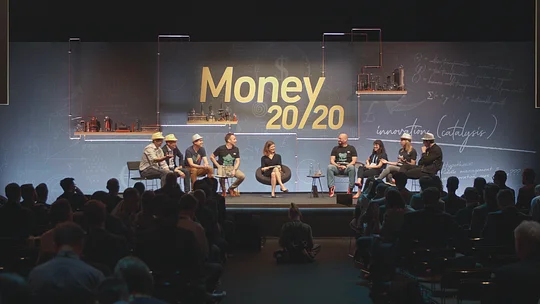 Which brings me to the F'in Debate.
We all know that banking transformation is not one thing - it's not tech, culture, brand, design, marketing etc it's all of them combined, and some of them are indisputable. But we don't always talk about them at once, so we decided to.
The debate that followed was immense.
Leda had the unenviable task of trying to keep myself and my Brear's Bears, as well as Jason's Bates' Bulldogs in check. Four head-to-head rounds where we tackled the banking battlefield, approaches to innovation, brand and how to transform your culture.
Jason and his team put a good argument forward but, naturally, the Bears came out on top ;) Thank you to my amazing team: Megan Caywood, managing director at Barclays, Gabrielle Inzirillo, director, fintech at Plug and Play, who at one point also went all Shakespearian on the audience, and Ed Maslaveckas, founder and CEO of Bud.
What. A. Team. If you weren't there, no problem, we got you covered in this episode of Fintech Insider.
I can't wait to do it all again soon. I hope to see you there.