It's time for BNPL to stop breaking design ethics

Let's start by calling Buy Now Pay Later (BNPL) what it is - debt. Debt, of course, has many faces. But 'credit, pay in instalments, pay nothing today, etc.' are all just debt.
This is taken from our Unfiltered newsletter. Subscribe now for a no BS, uncensored analysis of fintech news and hot topics delivered to your inbox each fortnight.

In 2021, UK shoppers plunged themselves into more than £4bn of outstanding debt after taking advantage of BNPL during the pandemic - and that number was taken in early September, before the festive season.
It's clear that one reason these companies are thriving is that people are struggling financially.

It's clear that one reason these companies are thriving is that people are struggling financially.
An estimated 7.7m Britons have accumulated "significant" outstanding balances with BNPL companies averaging £538 for each user, according to Credit Karma.
Sadly, 17% of those people felt they needed to use BNPL for essentials. In the same period, VCs have backed BNPL propositions to the tune of £8.2bn.
These figures are for the UK alone.
With the majority of companies offering BNPL backed by investment capital, they're obliged to grow, compete and attempt to win market share and healthy returns.
But not all can win, so will be competing for the same metrics - mainly customer acquisition and fee-based revenue.
With such a crowded market, winning and unlocking funding will largely be based on user acquisition. From a product perspective, winning will most likely involve seamless checkout design at one end and easy integration and return handling to the businesses they service. Seamless checkouts and easy adoption at the customers' end in this hyper-competitive market is increasing speed, and one-click checkouts and BNPL are becoming default. So our understanding of how we're paying for our products is becoming more opaque.
Recent studies have shown that 39% of shoppers have signed up to a BNPL product without even realising. This completely flies in the face of customer-driven design and good design ethics. And when ethics and desired business outcomes conflict, designers have a problem.

when ethics and desired business outcomes conflict, designers have a problem.
The current situation is not sustainable and the need for change is dire. Here are some of the key points to ensure you're designing BNPL ethically and not hoodwinking your customer.
Understand your role as a BNPL provider
Most people discover BNPL at the checkout on an e-commerce site. Knowing your role in this context is essential to framing your product (a way of paying) with clarity. Obviously, the merchant has the main role in the shopping experience. They own the branded environment in which the shopper is buying their goods. But when the shopper reaches the checkout, the branding is stripped back - allowing you the space to dial up your brand when appropriate and highlight important information about your product.
Making the transition from merchant to BNPL platform is key - cohesion will create familiarity and trust in the consumer.
So again, those key considerations are:

Ensure all vital information and contextual information stands out in the space available

Make the user familiar with your offering while adding important context around the payment choice

Ensure this visual language is carried over as much as possible in the handover between the merchant environment and the BNPL environment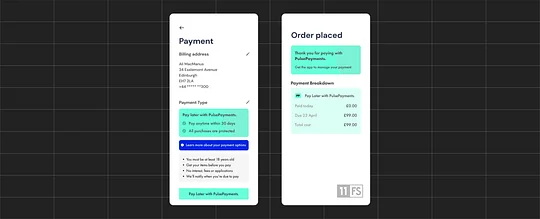 Provide clarity upfront
When they encounter your product at the checkout, consumers need to know exactly what they're being offered. To make the checkout experience as quick and effortless as possible, a lot of BNPL companies have completely overlooked this. According to Citizen's Advice, 39% of shoppers have signed up to a BNPL product without realising. More worryingly, 42% of shoppers that have experienced this still don't fully understand what they've signed up for.
It might sound incredibly obvious, but a well-articulated product is going to win a much higher rate of engagement and repeat customers. Promising vague platitudes and tricking customers is not the way to go. I can't reiterate this enough - transparency is key.

I can't reiterate this enough - transparency is key.
You can still put a lovely warm glow around owning the item the shopper is trying to buy - just make sure the vital info isn't lost.
A recap of the two takeaways here:

Design a clear representation of where you are in the process of the purchase

Dial up the important information as a highly-branded moment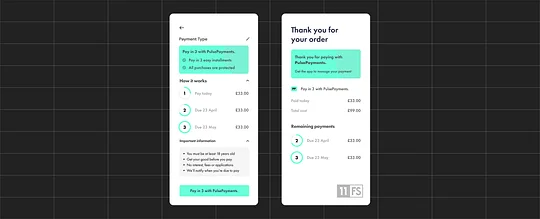 Clearly communicate a customer's financial position
After the hand-off between the merchant's owned environment and the completion of the purchase, you - as the BNPL product - own that relationship with the customer. And you have a duty of aftercare - to communicate and explicate the customer's remaining payments as clearly as possible. It should feel incredibly frictionless, but also instil a feeling of confidence and clarity in the customer.
If the BNPL offering in question sits within the context of a traditional bank account, there's a real potential to surface these upcoming payments as committed spending when setting budgets or savings goals. This means that remaining payments are always front of mind.
Once again:

Always make sure customers know exactly how much money is owed and when

Make sure there are easy ways for customers to view transactions and future payments and allow them to make payments easily, whenever they need to

When setting up future payments, ensure these committed payments are always considered and front of mind by default

Push notifications in advance of payments make customers aware of payments to be made

Visualise the payment process wherever possible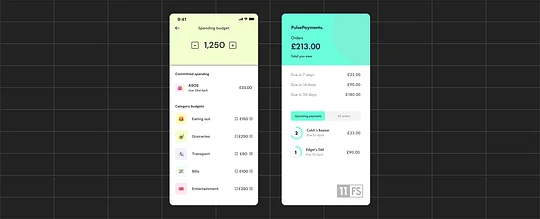 Following these three customer-first design principles will mitigate the failings we've seen from BNPL products. When it comes to the spending of money, trust is the biggest factor in creating a good relationship with customers and ensuring they return and use your products again. When it comes to BNPL products, a clear, highly informative experience is the route to success.
My unfiltered opinion
I'm not a supporter of BNPL in its current form. While it has value in some cases (which will no doubt increase with the cost-of-living crisis), its default marketing positioning is encouraging people to spend money they don't have. With dark UX patterns and a lack of information at the point of sale, many shoppers are acquiring debt they simply don't need. Targeting Gen Z before they have a chance to form a real relationship with money strikes me as particularly sinister. My hope is that more of these offerings start trying to win on the basis of trust rather than exploitation.
For more on design ethics for BNPL, check out our latest episode of Homescreen.