The top Middle Eastern fintechs to watch in 2021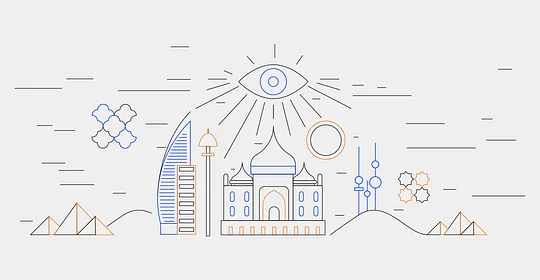 As we head into a new year, it's looking more and more likely that the UK might be at risk of sacrificing its beloved fintech crown…
… to the Middle East! 👑

Just a few months ago, we predicted that the Middle East and North Africa (MENA) could be the next fintech hotspot, and thanks to increased funding in the region coupled with coronavirus speeding up the path to digitisation, we might be right.
If you're watching the region with as beady an eye as us, you'll want to keep these 11 rising stars on your radar this year ✨

1. Liv.
Founded: 2017

Type: Neobank

HQ: Dubai, UAE

Employees: 10,000+
Liv is the self-confessed fastest growing bank in the UAE, with a customer base of over 400,000 (and growing rapidly).
This virtual bank account does things a little differently, rewarding its users with competitive interest rates and exclusive deals on concerts and events in their city. Customers can also track their spending history, split bills with friends and apply for Liv's very own credit card from within the app.
Liv's social media certainly has the fun factor - one lucky customer won their own private island thanks to the bank's innovative marketing campaign 🤩 We can think of worse places to isolate...
A bank that's got your bank. We think they're onto something here.


2. Pepper
Founded: 2017

Type: Fintech

HQ: Tel Aviv, Israel

Employees: 93+
If you want to control your money at any moment (don't we all?) then check out Pepper.
Owned by Israeli Bank Leumi, Pepper aims to keep users in complete control of their money, giving them instant spending updates, actionable insights, transaction summaries and articles to help them better manage your finances. From loans and credit cards to saving and investing, Pepper wants to be the only financial app you need in your life.
Somewhat ironically for a bank born out of a brand with 117 years of experience, this app is designed for millennials who "expect a radically different kind of banking."
Hats off to everyone at Pepper - we can't wait to watch you spice 🌶️ things up in the Middle East.


3. PayTabs
Founded: 2014

Type: Fintech

HQ: Dubai, UAE

Employees: 100+
Born out of an idea scribbled on a Starbucks napkin, PayTabs describes itself as the one-stop shop for managing your online business. From a robust payment platform to state-of-the-art technology for developers, PayTabs lures its customers in with the promise of no hidden fees and straightforward pricing.
It pays particular attention to the security of payments, which is a massive bonus at a time when online payments have rapidly increased, as has (unfortunately) fraud. Customers also get a dedicated account manager and operational support, which is a nice touch.
And in a move that proves their passion for small businesses, last year PayTabs offered SMEs in Egypt access to a payment gateway, for three months completely free of charge.
We hope this gave small businesses a much needed boost during a turbulent year ❤️


4. Tabby
Founded: 2019

Type: Fintech

HQ: Dubai, UAE

Employees: 41+
Buy Now Pay Later services are taking off around the world. Online shopping hit a 13 year high in 2020, and being able to pay later is a handy way to get what you want, when you want it, even if you don't have the cash upfront.
Dubai-based Tabby is following in the footsteps of BNPL superstars Klarna and AfterPay. Through the platform, you can buy online or in-store, and either pay for your goods later or in instalments. IKEA is one of the latest retailers to partner with Tabby in the UAE (we wonder what was wrong with homegrown Klarna? 🤔)
Tabby has recently announced funding of $23 million to boost its growth, which is great news for the business given the rising competition in the region.
Just don't forget to make your payments on time - or there'll be hell to pay 😈


5. Sarwa
Founded: 2017

Type: InvestTech

HQ: Dubai, UAE

Employees: 30+
Sarwa's aim is simple: to help you make the most of your money by putting it to work, ready for when you can no longer work.
Its online robo financial advisor makes investing for retirement easy, guiding its customers towards funds that suit their needs and risk tolerance. Users can set up an account with as little as $500, and the estimated projection feature on their site shows you how much you could grow your money by.
And we're not the only ones who've noticed what Sarwa is doing. Big names Forbes and the Dubai International Financial Centre (DIFC) are among the "humble brags" on their site 👏
You can bet your bottom dollar we'll be keeping an eye on this business.


6. Ila Bank
Founded: 2019

Type: Neobank

HQ: Bahrain

Employees: 48+
The founders at Ila Bank knew banking needed a shake-up, but they weren't quite sure how. So they asked the people of Bahrain, and the answer was clear. No one wants to visit a bank branch if they don't have to.
Enter: the bank that lives inside your mobile.
Powered by Bank ABC, Ila promises that relationship building is the key to better money management. That is, the more you use its services, the better it'll get to know you and your spending habits.
It's already won the 'Digital Banking Experience of the Year' award in 2020, so it seems we're not the only ones banking on Ila being a success 🏆


7. cwallet
Founded: 2018

Type: Fintech

HQ: Doha, Qatar

Employees: 6+
Qatar is the richest country in the world. So it might seem strange that start-up cwallet is catering to the plight of low-income workers and the unbanked.
cwallet offers "everything in one app" - a bold statement for such a new business. But it seems you can do pretty much everything, including receiving your salary, sending money home, paying bills, buying groceries, purchasing bus and metro tickets and transfering money to family and friends. Merchants can also use cwallet as a built-in wallet for their app via API integration.
Things are looking bright for the app - It just closed a $220,000 pre-seed funding round and it's working with Qatar Central Bank to get the licences it needs in order to expand.
CEO and Founder Michael Javier reckons "if you're promoting a cashless lifestyle, you need to promote financial inclusion and financial literacy too." We couldn't agree more!


8. HyperPay
Founded: 2010

Type: Fintech

HQ: Riyadh, Saudi Arabia

Employees: 63+
Given the number of payments businesses on our list, it seems online payments are to fintech what veganism is to January 🤑
HyperPay offers world-class payment services to merchants across almost every industry. It aims to help businesses boost their conversion rates at checkout by reducing friction through a wider range of payment options.
Along with an impressive number of awards under its belt, HyperPay has also witnessed a spike in revenue off the back of the global pandemic. CEO Muhannad Ebwini said the business saw a whopping 150% increase in transactions on delivery, grocery, telecom and digital services in 2020.
Moral of the story: keep doing your food shops online if you want to see HyperPay continue on its path to success 🥬

9. rise
Founded: 2016

Type: Fintech

HQ: Dubai, UAE

Employees: 9+
Migrants matter 👩‍❤️‍👨
That's the ethos behind rise, a business helping to bring essential financial services from their homes and host countries onto one convenient platform. From providing bank accounts, insurance and investments, rise is putting migrants back in control of their money.
As part of their mission to democratise banking, last year rise launched Xare, a free mobile app allowing millions of users to send money within minutes. One of the biggest issues with migrants sending money back home is that as soon as the cash has left their hands, they lose control over how it's spent. Xare should help people avoid those awkward family arguments, allowing senders to set limits and view transactions.
Check out these customer stories for a taste of just how many people the team has helped (as well as a much needed dose of positivity).

10. Democrance
Founded: 2015

Type: Insurtech

HQ: Dubai, UAE

Employees: 14+
If it's not immediately obvious, Democrance stands for 'Democratising Insurance'. (Whether they used a free brand naming generator for that, we're not sure.)
The platform aims to unlock new markets for insurers while helping distribution and channel partners (like banks and digital wallets) to increase customer loyalty and set themselves apart from the competition. But the company's vision is much bigger than this.
Ultimately, Democrance wants to make social value and create a level playing field for everyone. It's currently working on a project with AXA to provide insurance for migrant workers in the UAE and their families back home.
Sadly it's often those most in need of protection who can't afford it, so we're thrilled to see Democrance changing the game in this industry 🙌


11. Ajar
Founded: 2016

Type: Proptech

HQ: Dubai, UAE

Employees: 133+
We've all been there. Your to-do list is mounting and before you know it you've forgotten to pay rent. Cue a flurry of angry emails and texts from your landlord demanding payment.
Ajar was created to prevent exactly that.
It describes itself as the leading platform for rent collection and property management, helping both landlords and tenants to stay on top of their homes. Landlords can add unlimited properties to the platform, auto-send invoices and access all of their leases in one place. Meanwhile tenants can opt in for 'payment due' alerts (staving off sticky situations like the above) as well as send messages to landlords directly.
It closed a multi-million dollar funding round in 2020, and with the world moving increasingly online thanks to coronavirus, we can see this proptech start-up making real moves in the industry 🏡