Could the future of banking be baby boomers?

Arguably the biggest story right now is the announcement of Stripe Capital's new end-to-end lending API for platforms to offer financing options to their SMB customers. (Simon Taylor wrote a great piece on this at the weekend.)
This is taken from our Unfiltered newsletter. Subscribe now for a no BS, uncensored analysis of fintech news and hot topics delivered to your inbox each fortnight.
While Stripe offers banking products directly to some of its merchant customers, a seriously embedded Banking as a Service (BaaS) play is needed to power its plans to become the 'internet of all things fintech'. It needs to be an enabler rather than a market participant or direct competitor to its platform customers.
Stripe Capital's embedded lending capabilities are a game changer for loan product development. That's why it's attracting customers like Shopify who have a colossal market share (~30% of all US ecommerce websites use Shopify). And Shopify has announced its plans to embed the Stripe Capital API, launching embedded lending products to its 800,000 merchant customers in 2021.
But when it comes to the merchants themselves, over 57% of these in the US are run by 'baby boomers' (people born between 1946 and 1964). And of these, around 35% have been in business for more than 10 years.
So if, indirectly, Baby Boomers make up a large segment of Stripe's customer base, it stands to reason that this demographic will be a hugely valuable business segment in the next 5-10 years.
Baby boomers vs. Gen Y and Z
Baby boomers have typically been marginalised and neglected by fintech companies who prefer to go after Gen Y & Z. Fintechs often view the older demographic as being too rigid, time-consuming and abstract from the "digitally native" Gen Y and Z's tastes to invest in designing rich, digital experiences.
So it's a bit of a paradox. Boomers are given accolades like being 'the backbone of America' and the 'bread and butter' of UK retail banks, yet they're completely ignored by fintech innovators. But baby boomers are rapidly adopting digital platforms and services, advanced by the necessity to adapt to remote working and new business practices.
Fintechs often view the older demographic as being too rigid, time-consuming and abstract.
And traditional institutions - the banks that Boomers have been loyal to for decades - are increasingly reluctant to offer services equivalent to modern fintech disruptors. Plus they're dealing with the pain of legacy systems and processes.
Big banks are precariously close to losing their deposit accounts and customers to fintech disruptors and platform giants like Stripe. But it's also these banks who have the history, pedigree of trust and relationship-building capability to cater to the needs of this forgotten cohort.
Are baby boomers the new 'it' customer segment?
It's no exaggeration to say that baby boomers could be the most valuable customer group of the next 10 years. They have, on average, the most security and wealth accumulation, and they're the most likely demographic to triumph despite the economic pressures caused by Covid-19.
But even though digital adoption in this cohort is up on last year, little effort has gone into investigating and removing frictions to actively promote adoption.
This is a mistake!
Who will have new and evolving needs over the next 5-10 years, as well as the capital to power other banking product lines? Baby Boomers. Plus the rapid changes to our ways of working have really shifted their appetite and willingness for digital adoption.
The tides are turning 🌊
I remember having a chat with my dad about his business bank's painfully slow approach to offering Bounce Back Loans. This was in comparison with Starling Bank, who had built an entirely new product and launched it to business customers in the time he was able to get access to funding. Suffice to say, his loyalties are shifting.
I recently interviewed the owners of some US SMBs to get their insights on a loan product we're helping to shape, and one conversation particularly stood out to me.
Barry, a successful entrepreneur in his 60s, was used to negotiating and 'eyeballing' his bank manager in person when he needed a loan, but recent events have forced him to reconsider this approach. He told me that his deposit bank isn't offering favourable terms and he's open to other options. We chatted it through, and Barry sees merit in using a fully digital loans platform to find the best deal, even though there was no 'eyeballing' feature.
I wonder how many other entrepreneurs, professionals and retirees are on the hunt for a better service these days?
All fintechs need to do, then, to unlock a whole ecosystem of unmet needs, is to chip away at one of the traditional products that baby boomers have been loyal to. And since banks are increasingly unwilling to lend to small businesses, Stripe Credit comes at an auspicious time to save the day.
Given my suspicion of an unmet need in product design for Boomers, and the Stripe - Shopify - Bank building blocks firmly in place, all we need now is a Boomer abstraction layer (tongue in cheek) 😝 to manage the trust obstacle.
The Boomer abstraction layer 🧱
Now I think about it, such an abstraction layer might include:
A trusted brand
Data security
Familiar language
'Serious' UX
Dedicated human support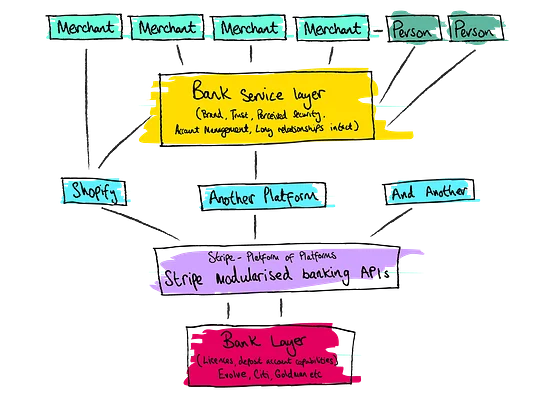 And who do we know who has those qualities... 🤔🤔
It's the very banks that stand to lose their customer base for other reasons. Could this actually be an opportunity for traditional banks after all?