What do our mums think that we do?

We asked some of the 11:Mamas what they think we do. Here's how that went.
This Mother's Day, a lot of us have been unable to see and extend our thanks to our mothers in the way that we would usually do. In honor of the mothers that have been responsible for us Elevens, we wanted to take this opportunity to say thanks to them, tell them we love them, and ask them a few questions to see what exactly they think we all do for a living.
And I'm sure we've all been there, the dinner-table conversations and phonecalls where we chat about our work and we realise that we are likely speaking in tongues to a lot of our family and friends. We work with some serious technology, and we transform things that are understandably intangible to most modern day consumers - including our own mamas.
So we thought we'd take this time to grill a few of our 11:Mothers on the following:
What do we do for a living?
What does 11:FS do?
And…
So without further adieu, here's where we got to. Some of our mothers have remained anonymous, some of them haven't. There are varying levels of understanding, but let me set the tone with my own mama - Christina.
11: Bianca, Marketing Manager
Mother: Christina
"You are a marketing manager at 11:FS and client relations" (!?) "11:FS make banking easy for business and less complicated, and they cut out unnecessary costs and middle man."
Sort of. Maybe. It's in the right neighborhood.
But as for 'what is fintech'?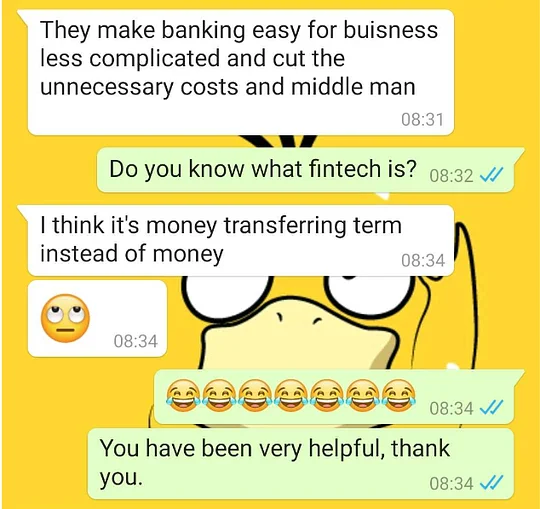 11: Eric, CCO
Mother: Karen
"Fintech and make podcasts. I can't really explain what any of you do. 11:FS make podcasts - help banks with marketing? If I could look it up I would know."
And as for what 11:FS do?
"Financial technology. I thought the questions would be things like 'what did you want to be when you grew up; what was your favourite animal, who was your best friend."
Solid idea for a follow-up, Karen.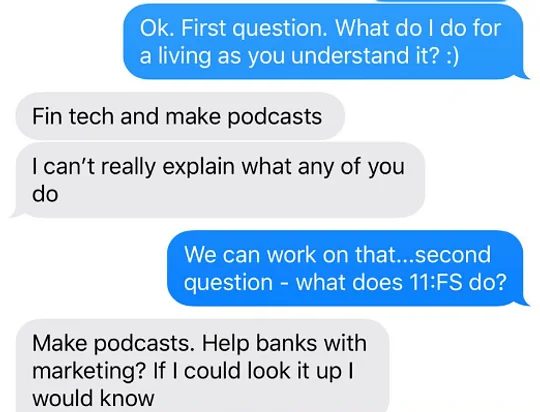 11: Alisha, Junior Assistant to the CEO
Mother: Supranee
"[Alisha's] first role is to be bossy, and give David and Zoe a headache. That's her main job, and I know that she's doing it well so far. Secondly, she has to be nosy with David's email, reply to people, and say COMPUTER SAYS NO!! Not sure what 11:FS do tbh they do a lot of banking, a bit of drinking, and Yoga in front of the screen."
And what is fintech?
"Is it a pet name?!"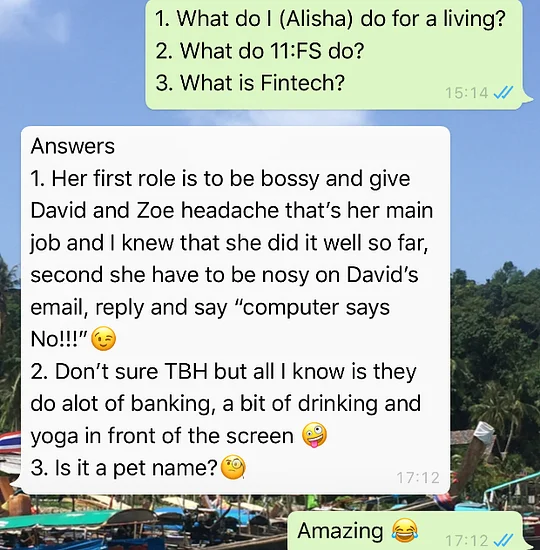 11: Harry, Pulse Marketing Manager
Mother: Fiona.
Fiona cut right to the chase here.
Harry works for a financial marketing company.
11:FS builds and designs the online parts of banks and financial institutions
What is fintech? Not a clue.

Anonymous 11:Mama #1
For this one, there was a brief misunderstanding and the term 'what do I do' was taken a bit existentially. It made our days to read.

"You are there for me and support me, and you can read my mind in my voice. Also you fill my life with joy and pride, I am so proud of you."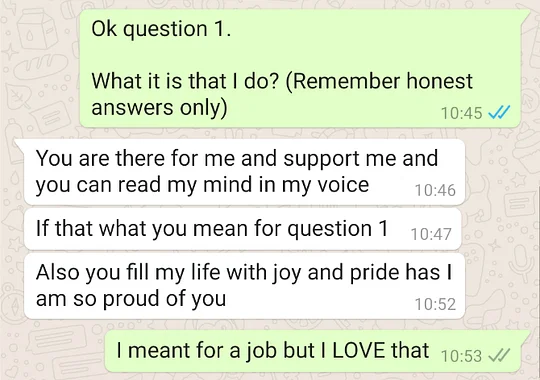 After a small correction, we got these answers from Anonymous 11:Mama #1.
"Oh, you're in data banking - and you do a lot of speeches. 11:FS help small companies get bigger, and help set up new ones and show them how to do it - and also you have a podcast!"
And what is fintech?
"It's all about finance and done with computers and up date technologies [sic]"

Anonymous 11:Mama #2
A simple, yet iconic:

"You do social media marketing." (Close, but not quite for this 11). "11:FS do financial banking systems."

And when asked what is fintech?
"I don't know."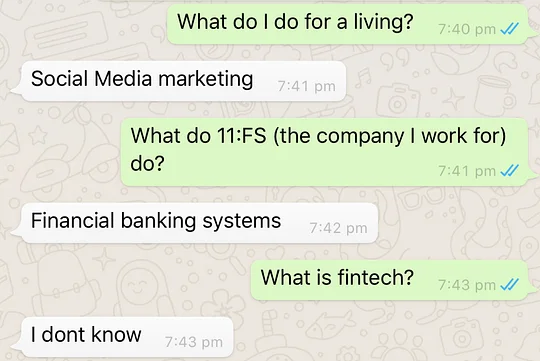 11: Jess, Social Media Manager
Mama: Steph
"Jessica is a Social Media Manager. 11:FS sounds like it is connected with Formula 1 car racing, but in fact is a three-year old company offering specialist assistance to the banking world - all a bit over my head."
Jess pressed her mother to expand on what being a social media manager actually entails: "You get your company exposure on social media… Twittering and such!"
And as for fintech? Well, in her words, "It's what 11:FS does! Financial technology!"
Heck yeah we do, Steph. 😉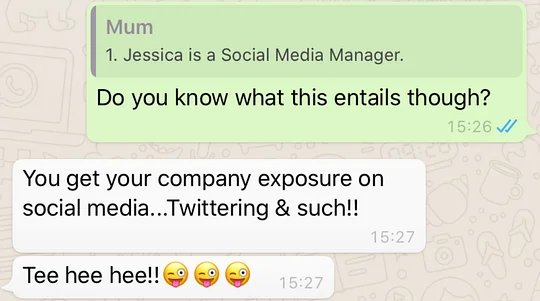 11: Ed Hallam, 11:FS Foundry Head of Operations
Mama: Shan
"Ed works in banking. He is a part of a team offering services, including consulting. I believe 11:FS advise on and promote digital banking. Fintech is 'financial technologies'"


Ed's mother followed up with one further message:
"Can I wish a Happy Mothering Sunday to all Mum's connected to 11:FS staff – who will miss out on being with their family this Sunday. We shall all miss each other but hopefully we can keep in touch virtually!"
Thank you, Shan ❤️. We echo your sentiment entirely.
We wouldn't be where we are without our families and friends, and we want to use today to extend a big hug to everyone who isn't able to be with their loved ones. We really enjoyed discovering what our mothers think that we do for a living - so if you're up for a bit of fun, ask your loved ones the same question and send us your answers on twitter.
We'd love to see 'em! 😊