Jobs to be Done: The gaps in US SMB financial services

Jobs To Be Done (JTBD) is a theory. Its main aim is to explain why customers start - and stop - using different products and services in the market. Stripped down to the essentials, it's a fairly straightforward concept first introduced by Harvard professor Clayton Christensen that can be adapted into a useful tool for product development.
Every time we choose to use something, that product or service is just a means to an end. We essentially 'hire' or 'fire' different products or services to do the 'job' that we are trying to get done.
Early in 2020 we conducted JTBD research into what SMB owners need to run their businesses, and identified opportunities for providers serving this group to develop solutions that will help them meet their goals. We learnt that customers don't want a bank, they want to enjoy running a business they are proud to call their own. They want services that help them to minimize time spent on financial management, so they can maximise time dedicated to running their business.
Find out more about designing digital financial services that work for US SMBs in our full research report.
Method: The JTBD canvas


When 11:FS does this type of research, we unpack our learnings onto a JTBD Canvas. This helps us to map our customers' needs and behaviours in context: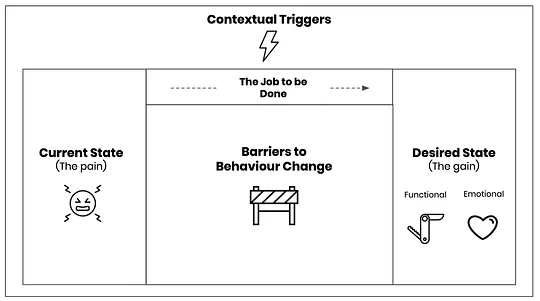 The JTBD sits in the middle of the canvas and summarises the practical progress that customers want to unlock. It is surrounded by 'constraints' or 'pain points' — basically the blockers that currently hold people back from reaching their desired state.
To draw up a JTBD canvas, we explore four key areas:
The current state
This is how the customer currently fulfils this job and the common pain points associated with the way they do things at the moment. It's useful to note down any convoluted work arounds, as whilst the customer might not necessarily call them out as being painful, they can present opportunities to innovate.

The desired state
Here we're looking at the outcome the customer is trying to reach. We're not searching for product solutions yet, but we're interested in the change the customer is trying to make in this JTBD. The desired state can be both functional and emotional, which informs how the product is designed and communicated.

The contextual triggers
These triggers are the set of circumstances that lead to the customer realising their current state is a problem. Contextual triggers can vary substantially according to the type of customer being interviewed.

The barriers to behaviour change
The barriers are the factors that stop or significantly slow down the progress the customer is trying to make from their current state to their desired state. These can be anything including poorly designed services, deeply rooted habits or strong anxieties around change

What's next?
Over the coming weeks we'll be sharing some case studies of the canvas creation process for the following 5 JTBD that we identified as being most important for US SMBs:

Keep my personal assets separate from my business finances
Build business credibility and legitimacy in order to access funding
Make smart and proactive business decisions based on my finances
Create a realistic but impactful marketing budget

Taking each job individually, we'll discuss why it's important to SMBs and summarise our thinking behind the canvas. We'll also consider how these jobs might have changed over the course of the COVID-19 pandemic, and what effect this will have on the potential growth opportunities for SMB financial services providers.
More about JTBD: