In our third design drill down, we're looking at how new approaches to insurance can bring innovative uses of technology, turn claim making into an enjoyable experience and bring a fresh perspective to big life decisions.
🚗 Get your car Cuvva'd
Cuvva is taking a fresh approach to car insurance. Gone are the days of large annual payments and lengthy applications. Instead, Cuvva offers fast and tailored insurance products to get its customers on the road in a matter of minutes.
Spotting an opportunity in the market for a more customer-focused approach to insurance, Cuvva provides flexible plans that are bespoke allowing customers to be insured on vehicles from just one hour or up to 28 days. Furthermore, they have the freedom to jump on and off insurance plans - only paying when they need to drive. Alternatively, customers can subscribe for rolling cover of their car, with easy one-tap cancellation.
To complement this simplified approach to insurance, the digital experience is just as easy to navigate. Simply enter a car vehicle registration and Cuvva will do the rest, identifying the vehicle and providing a tailored quote.
Applying for insurance can often be uninspiring and overwhelming, but the Cuvva look and feel has been designed to improve the experience
With bold use of the brand purple, subtle gradients and playful animations, Cuvva feels refreshing and reassuring. Screens focus on a single task, allowing the user to digest information easily. Further context and guidance is always a tap away, with modals surfacing information such as why a particular detail may be affecting the quoted price, combined with handy colour coded visualisations. Gesture based navigation for swiping through cover duration also helps to make the experience feel less overwhelming.
Subtle design cues such as entering the registration into a physical number plate, retrieving the vehicle brand logo and the ability to add a nickname for a vehicle all help to make the experience feel personal.
Cuvva certainly feels like a breath of fresh air when it comes to taking out car insurance and we are excited to see what's next!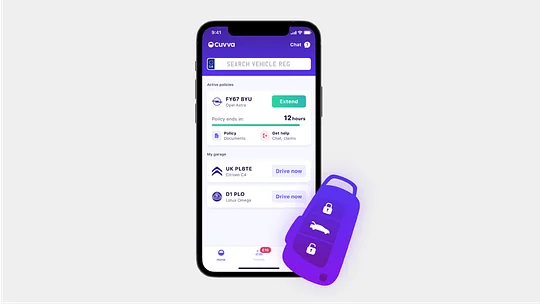 📜➡️📱17th century principles, 21st century experience
So-sure have set themselves the mission of restoring customer trust in insurance with a novel approach looking to take it back to its '17th century roots'. At its core, So-Sure is based on social insurance principles, allowing you to invite friends and family to pay into a Reward Pot. Everyone in a pot contributes to premiums if a claim is made. If a claim hasn't been made in a year, all pot members can receive up to 80% of the premium back.
This social approach relies on reducing friction in joining a Rewards Pot through to making a claim. As such, So-sure has focused on making the experience as seamless as possible, leading to the introduction of AR-based features into its Contents Insurance offering.
Customers can effortlessly build the 'inventory' of items that will be covered under their policy. Upon scanning, So-sure's proprietary tech recognises what objects are, including your new flatscreen for optimum Netflix bingeing. With a few simple details added by the customer, such as year and purchase cost, that item is instantly added to the policy.
So-sure has worked hard to ensure that customers can quickly complete actions throughout the end-to-end experience. This feature is an excellent example of how using technology - in this case, augmented reality - can help to enhance the user experience.
Advances in technology can sometimes focus on unexpected or irrelevant use cases that don't solve a customer's Job to be Done. Through careful consideration, So-sure has arrived at an innovative solution that reduces a point of friction, utilises new technology, and aligns with its overall mission.

💀 Giving death a facelift 💀
Thinking about your own death is something the vast majority of us will actively avoid. As a result, life insurance has always been something that people don't seem to question. You buy it, you die and someone gets a little (or big) payout. Historically, it has been quite a lengthy process. Long forms, complicated questions and needless clauses have made taking out a life insurance policy a very painful experience.

That's where DeadHappy saw an opportunity. Their no-fuss life insurance process, coupled with some rather brilliant product features, have completely flipped the life insurance proposition on its head. For starters, your premium is based on how healthy you are now, not how healthy you may be in the future like other policy providers. This keeps costs low and initial sign up incredibly straightforward. Then there is the genius offering of death wishes (no, not that kind!). A death wish in the eyes of DeadHappy is, in their words: 'simply what you want to happen when you die. Send your mates to Vegas, get a bronze statue made of yourself or pay off the mortgage.' As an alternative to the boring legal proceedings of drawing a will, this is an ingenious, engaging feature for something as taboo as death.
Their use of language really emphasises this change in attitude too. In their ads, they grab your attention with straplines such as: 'Still alive? There is still time to get life insurance!', which is followed up in the contextual copy of their sign up forms:

'A mysterious lump, or an inappropriate bump? Maybe you're losing weight, or you're just not feeling great' provides all the context the customer needs to give an informed answer, while at the same time taking the taboo nature of the subject completely out of the equation.

DeadHappy's strapline is: 'Changing attitudes to death... one death wish at a time.' They have certainly made a very impactful start.