Changing the perception of insurance

I recently heard someone suggest that 'insurance is just like gambling.' Bit of a stretch, but I could see their point. Both are fundamentally risk-based, and it raised an interesting question - do you ever really 'win' in insurance?

In gambling, I bet on an outcome, and if it's true I win. If not, I lose my stake. In insurance, I pay my premium (stake), but what is a win? If I didn't claim and so didn't use the product or service? Or if I claim and use what I'd paid for, even when something regrettable had to occur? The likelihood is in any given scenario, the best case for me will be worse than where I started.
It gets even more extreme when you think about life insurance, as I might never see the 'win.' There can't be many other products or services that fall into the similar category.
Is this what drives insurance's 'grudge purchase' label, or is it just a perception problem? Rather than considering winning and losing (which is very gambling specific), the better question is 'did the customer believe they got a fair value exchange?'.
In our example…
When no claim was needed: is 'peace of mind' enough value for a customer?

When a claim was required: did you look after the customer as they expected?
The value exchange
At 11:FS, we use Jobs to be Done (JTBD) to understand 'who are we helping?' and 'what are they trying to do?'. For insurance, at a macro level they might look something like:
Protect the things that are important to me

I don't want to pay for things I don't need

Stay protected if circumstances change

Help me understand and reduce risk

Promise you'll look after me if something bad happens
If we want to change the perception and value narrative, we need to ensure today's products and services fulfil these needs.
In the past, brokers or agents could fulfil a number of the insurance JTBD by providing risk assessments, advice and offering bespoke products and services, but this is expensive. Today, the personal service is mid-to-large corporations where the complexity and fees are much higher, or high net worth individuals.


Convenience and price have taken over for the mass market, leading to digitally-powered mass commoditisation.
Convenience and price have taken over for the mass market, leading to digitally-powered mass commoditisation. This form of digitisation is seductive in that it increases profits and leads companies to feel that they have a clear roadmap that maintains and enhances their current business model. But the same model, with different channels, largely ignores digital's potential to provide new and more valuable services to end customers. Ultimately it's an evolutionary cul-de-sac.
You can see this in today's insurance products - the majority are transactional, just focusing on the problem and immediate compensation, not helping mitigate disaster in the first place or adding value across the whole customer journey. A more valuable exchange requires a deeper relationship between parties - but do I really want a relationship with my insurer? Probably not. But what if the truly digital service felt more like the private broker experience? Albeit an algorithmic version for the mass market.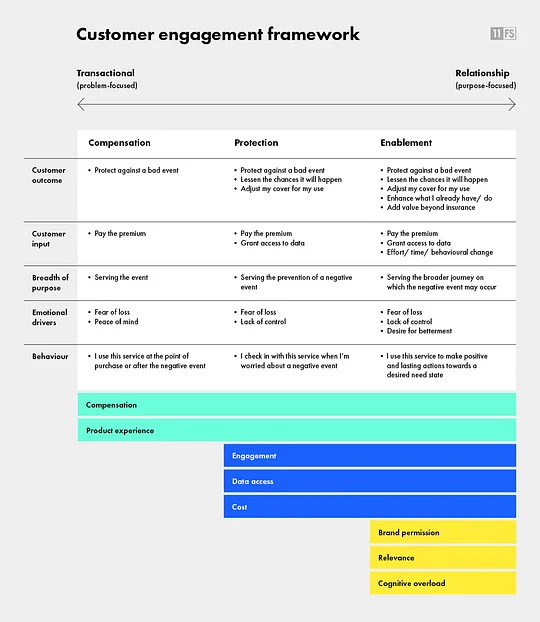 In the framework above, as you move towards protection and enablement you start to create a positive value exchange - where 'a win' isn't just tied to claims or a transaction, but a wider engagement and level of service provided. There are some great examples of this already:
A terrible experience negates value
A terrible customer experience quickly erodes value, but are people willing to pay more for it? Or is a good customer experience just required?
We've found there's a threshold for how much more a customer will pay for a good user experience. For commoditised products, if somewhere else is offering it much cheaper, with a recognised brand, it doesn't matter how good your experience is, price will prevail. But if you have a bad experience, you're likely to lose that customer for life. So what is the right level?
It depends on how often your customer has to interact with your brand. If it happens a lot, then user experience is more important. An experienced power-user will go for price over user experience. This applies to inexperienced or new customers. But user experience in some areas can allow you to charge more and win, if executed well. We begin to develop a circular argument as insurers look to build a better relationship with customers, increasing interactions and demanding a better overall experience.

So the more we digitise, the harder it gets.
The insurance industry metrics for NPS scores - 19.0 points in 2021, with the UK all-sector average at 21.2 - from the Institute of Customer Service paint a reasonable picture. So we're all good, right? Wrong. Digitising insurance and moving online means less customer service interaction, which is the primary driver of high customer satisfaction scores in the industry. So the more we digitise, the harder it gets. What was good may no longer be good enough.
Considering the basics for good product design and a great customer relationship, what is needed?:
Start with the customer and what they're trying to achieve, then design the experience and services to fulfil these needs, and finally the product last.
So, did we 'win'?
We've established that it's not about winning for customers or insurers, it's about having a fair and positive value exchange that addresses real customer concerns, problems and needs.
'Haven't we heard this before?' Theoretically, yes. The fundamental difference is insurers (and brokers) need to move beyond the 'what' and replace it with 'how'.
Start with the customer and what they're trying to achieve, then design the experience and services to fulfil these needs, and finally the product last. In my experience, despite claiming otherwise, organisations start with their products and technology and work upwards, copying features (solutions) to fit customer problems, rather than the other way around. Unless we can break out of that cycle and make it feel different for the customer, it runs the risk of feeling incremental and more of the same.
The key is a combination of new technology, regulatory shifts towards open finance, and new API-based business models is opening opportunities to create real-time, intelligent, contextual services. This evolution of the product/distribution model will, and in some cases already is (through the examples shown), fundamentally changing the structure of the market, business models and way we engage. Positive value and customer experience will be non-negotiable. Hop aboard, it's moving fast!