We've sifted through the data to find out what 11:FS Pulse users have been loving and where their focus has been for the last 12 months.
2019 was another huge year for financial services and fintech across the world. This was demonstrated in the amount of content and number of new brands coming onto the 11:FS Pulse platform every week.
Much like the industry it serves, the platform passed a few milestones, including more than 3,000 total user journeys from 382 brands across the globe. In 2019 alone, there were 1345 new user journeys added from 195 new brands, totalling 298 hours of brand new content for users to get stuck into.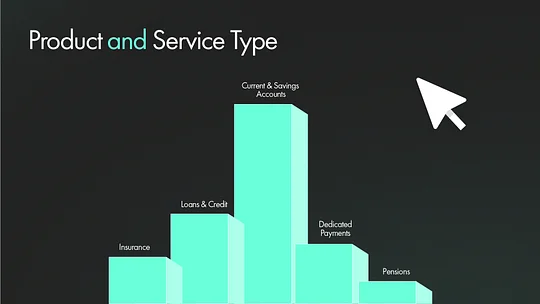 None of this would have been possible without the tireless work of our content and video editing teams, as well as the pool of fintech enthusiasts we call upon to source the content.
Self-congratulatory back-patting aside, examining the user data provided a number of fascinating insights, some surprising, others much less so!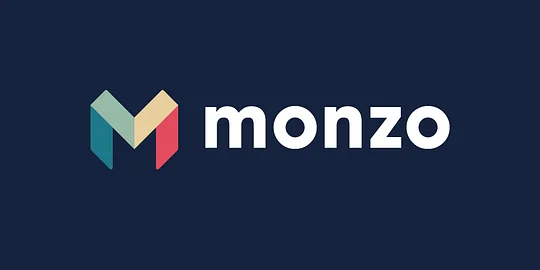 The top 10 most viewed brands reads as a who's who of fintech superstars and it was no surprise to see Monzo coming in at number 1.
Not only are they leading the way in terms of innovative UI and UX, they released a major overhaul of their mobile app in September 2019 and the traffic to their journeys on Pulse spiked accordingly.
Outside of some of the most exciting fintech brands in the UK and US, it was also great to see our users engaging heavily with some of the continent's finest innovators in the form of Robinhood and Bunq. These brands have gone from strength to strength in recent times and it's no shock to see them on this list.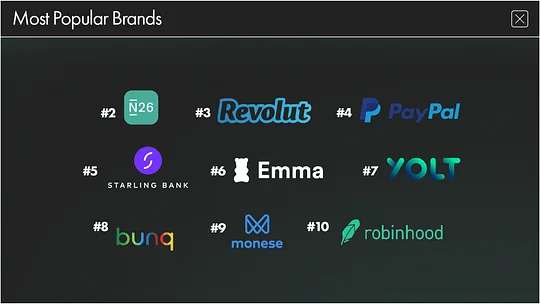 Yolt has been one of, if not the, strongest player in the market when it comes to aggregation and its use of payment APIs to help customers move money around efficiently and easily makes them a popular choice amongst users as the Open Banking agenda becomes more prevalent.
Bunq too, has been making waves through slick features such as the way its tackled round-ups, combining this with pots & goals to enable customers to save smarter, as touched on by Amy Gavin in her recent report. More recently, Bunq has grabbed headlines for its environmentally friendly approach to cashback. Through its new metal 'Green Card', Bunq has started doing its bit for the planet by planting one tree for every €100 spent.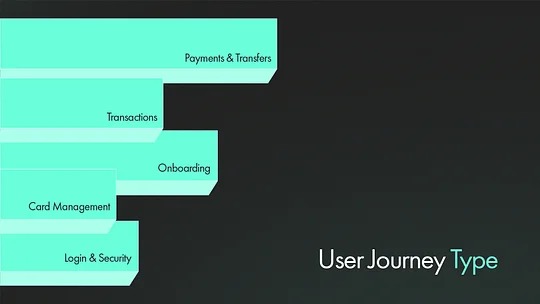 Other patterns begin to emerge as we look at the most popular user journeys, product & service types and journey types. A key area of focus for so many players in this competitive market landscape is onboarding for their current & savings account products and this is shown with four out of the top five journeys being onboarding from top fintechs. Outside of the now well-known fintech players, the anomaly in this list is Apple Card, however it makes an appearance here as an exciting new entrant as big tech begins their potential fintech siege.
Looking back at Sarah Kocianski's report last year, "11:FS found that of customers who had signed up to use a digital financial service or app, 22% found the amount of information they had to provide at onboarding the most painful part of the experience", leading to a leakage rate of up to 85%! This is likely a result of the digitisation of analogue process by traditional FIs, with little focus on creating a truly digital process.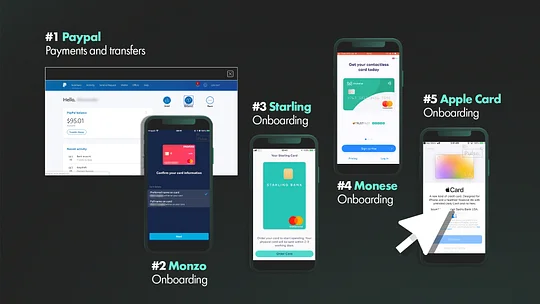 Frictionless, digital-first onboarding has been normalised by the likes of Google, Apple, Facebook and Amazon (GAFA) and as such, customers now expect this from their banks more than ever. For their most widely accessible and popular products (current & savings accounts), it is no surprise that FIs are so hooked on this content on Pulse, as they look to review what 'best-in-class' really means for their customers.
Then only slight anomaly here is the popularity of PayPal, which seems to go against the other patterns we've seen in viewership. While the other brands featured are a who's who of headline grabbing fintechs, PayPal is far more of an OG.
So why did Pulse users take such a great interest? Primarily, because when it comes to market-leading payments and transfers, it's hard to look much further than PayPal and it seems that our users agree.
11:FS Pulse has become an increasingly global library of user journeys, covering brands from 52 countries. While the most popular content has traditionally been from the UK, US and Europe, our users have engaged with content from all 52 countries. This demonstrates one of the key benefits of 11:FS Pulse, the ability to gain inspiration and benchmark against brands outside of your direct competitors and territories in just a few clicks.
As we move into 2020, we expect to see increasing interest in journeys from outside of these areas, with some of the key emerging fintech markets, such as LATAM and Australia, taking centre stage.
Want more insights on the fintech industry's biggest players. Check out 11:FS Pulse for end-to-end journeys on platforms from around the globe.